It's officially soup season! Do you want to learn how to reinvent your favorite soups to be healthier and more nutritious? Do you have questions on how to adjust your recipes for taste changes post-treatment?  Check out the link below to view Melanie's latest virtual cooking class. Melanie shares some of her favorite soup recipes, including Gingered Butternut Squash Soup with Cashew Cream and a Robust Chicken Soup, and lots of great tips as well!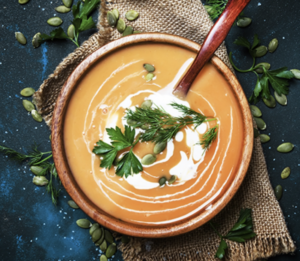 Access the Recording here.  Note, you will be asked to Register for the Recording, please enter your name and email address. You will then be asked to enter a passcode, enter SNCCCooks1! (please be sure to include the !). Recipes will be sent to registered participants.
If you are a patient and have questions about your diet, please ask your oncologist at your next appointment about receiving a complimentary nutritional session with Melanie Mitchell, Cancer Partners' Registered Dietitian.